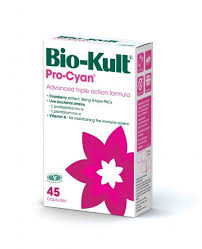 Bio Kult ProCyan 45 Capsules out of stock
Product Description
Bio-Kult Pro-Cyan is a triple action formula scientifically developed with cranberry extract (36mg PACs), two specifically selected live bacteria strains and Vitamin A which contributes to the normal function of the immune system and maintenance of the mucous membranes which can be found along the urinary tract. Bio-Kult Pro-Cyan does not need to be refrigerated and is suitable to be taken alongside antibiotics, travelling, by vegetarians and as part of a healthy diet.
Bio-Kult Pro-Cyan is manufactured by Probiotics International Ltd (Protexin) in their purpose built state-of-the-art factory in Somerset. Protexin are dedicated to producing innovative research based products of the highest quality for health.
For Protexin, quality is of paramount importance, with a dedicated quality department and accreditations including cGMP and ISO 9001:2008, you can be sure each product is manufactured to the highest standard. All Protexin products are tested to ensure that they meet label claims using independent, UKAS accredited laboratories.
To ensure that we continue to produce innovative, research based products we work with leading researchers at universities and institutes to ensure that we are always at the forefront of research. Each capsule contains: Minimum of 18mg cranberry A-type PACs and 500 million live microorganisms (>5 x 108 CFU/capsule).
Allergen advice
Contains traces of soya and traces of milk at a level which will not affect lactose intolerance sufferers.
Ingredients
Cranberry Extract (Vaccinium macrocarpon), Cellulose (bulking agent), Live bacteria (Lactobacillus acidophilus PXN 35, Lactobacillus plantarum PXN 47), Vitamin A (retinyl acetate) 160mcg/capsule*, Vegetable Capsule (Hydroxypropylmethyl Cellulose) Provides 20% RDA / capsule.
How to use
Directions for use: 1-2 capsules once or twice daily with food.
Pregnancy: Bio-Kult Pro-Cyan has been formulated to be suitable for use during pregnancy, but we would always suggest consulting your doctor or healthcare practitioner before taking any food supplement.
Children under 12: Take half adult dose.
*Or as recommended by your doctor or healthcare practitioner.
Bio-Kult Pro-Cyan capsules can be pulled apart and the contents sprinkled on to food, mixed in a drink or swallowed whole.
Safety Warning
Do not exceed recommended daily intake.
Storage
Store in a cool dry place - no need to refrigerate.
Box Contains
45 x Vegetarian Capsules.
---
More from this collection