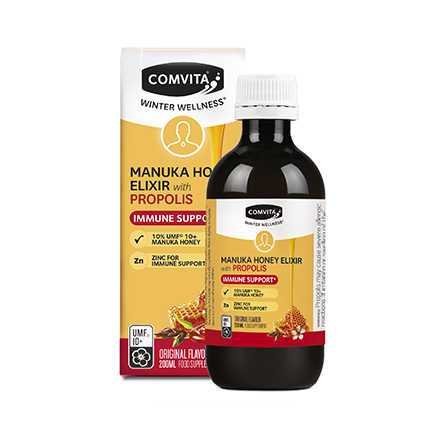 Comvita Manuka Honey Elixir with propolis 200ml out of stock
Comvita Propolis Herbal Elixir is a natural all-in-one herbal formula designed to help maintain winter wellness. Comvita Propolis Herbal Elixir is a powerful synergy of high strength UMF10+ Manuka honey, Propolis and carefully selected herbal ingredients.
New Zealand Manuka has long been valued for its health-maintaining effects and Manuka Honey is gaining worldwide recognition for its unique properties. Propolis is an excellent source of bio-flavonoids renowned for their natural immune and respiratory supporting qualities.
Contains no artificial colourings, flavourings or preservatives.
Suitable for vegetarians.
All Comvita products contain the purest of natural ingredients and are processed utilising leading-edge technology ensuring that nature's delicate balances are retained throughout production.
Ingredients:
Products: Manuka Honey, Olive Leaf Complex, Health Care Product, Personal Care Product, Natural Skincare, and MediHoney.
How to use:
Adults: Take 10mL (2 teaspoonfuls) every 2 to 3 hours as required. Take up to 40mL daily.
Children: Take 5mL (1 teaspoonful) every 2 to 3 hours as required. Take up to 20mL daily.
Not to be given to children under 2 years of age without medical advice. Do not exceed recommended daily intake
---
More from this collection