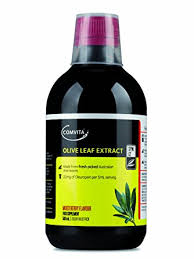 Comvita Mixed Berry Olive Leaf Extract 500ml out of stock
Product Description
Olive Leaf Extract like Extra Virgin Olive Oil has long been associated with a mediterranean lifestyle.
Comvita Olive Leaf Extract is made only with fresh olive leaves, picked at sunrise and concentrated before lunch to capture of all nature's fresh goodness. It is made fresh at our very own Olive grove in Australia. Comvita Olive Leaf Complex does not contain any olive leaf extract powders or artificially boosted oleuropein products.
Comvita's totally unique extraction system provides the combination of 12 key naturally occurring polyphenolic antioxidants. This effect is called Synergy 12.
Provides great all-year round support.
Comvita Olive Leaf Extract with natural Mixed Berry flavouris perfect for the whole family.
Ingredients
EACH 15ML DAILY DOSE CONTAINS: Vegetable glycerin (bulking agent), Olea europaea (Olive) Leaf extract (water, olive leaf solids) equivalent to 15g fresh leaf (5g fresh leaf per 5ml dose), Natural flavour. Contains no added alcohol or sugar Suitable for vegetarians and vegans. Contains Propylene Glycol.
---
More from this collection