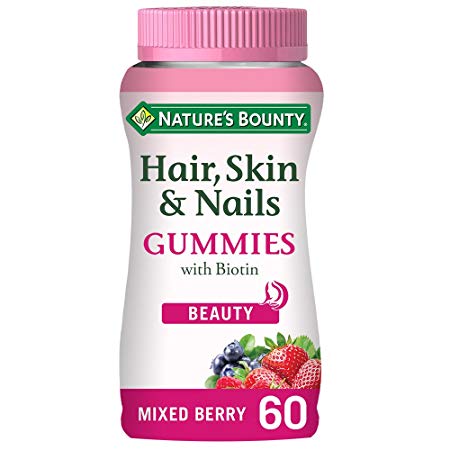 Nature's Bounty Hair, Skin and Nails Gummies with Biotin - Pack of 60 Mixed berry flavour
Nature's Bounty® Optimal Solutions® Hair, Skin & Nails Gummies provides you with the vital nutrients your body needs to support your natural beauty from within.* Vitamin E and Vitamin C are antioxidants. Vitamin E contributes to skin health, and Vitamin C is involved in collagen production and formation, which forms the basis for vibrant skin.Biotin helps to maintain healthy hair.
Ingredients: Tapioca Syrup, Sucrose, Gelling Agents (Pectin, Modified Tapioca Starch), Ascorbic Acid, Flavour Enhancers (Citric Acid, Sodium Citrate), Glazing Agents (Sunflower Oil, Carnauba Wax), Bovine Collagen (Sulphites), Anti-caking Agent (Sodium Potassium Tartrate), Natural Colour (Carrot Juice), D-Alpha Tocopheryl Acetate, Zinc Citrate, D-biotin, Sodium Selenite, Natural Flavours (Strawberry, Blackberry, Blueberry, Raspberry).