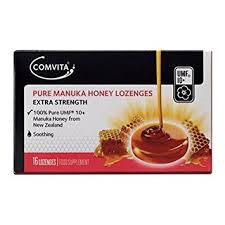 Pure Manuka Honey UMF10+ Lozenges Pack of 16
Comvita Pure Manuka Honey Lozenges provide the soothing qualities of 100% Pure UMF 10+ Manuka Honey.
This lozenge is guaranteed to be at least UMF 10+ and has been verified by an independent testing laboratory.
UMF stands for 'Unique Manuka Factor', an independent, licensed certification of the unique antibacterial potency of Manuka honey.
---
More from this collection