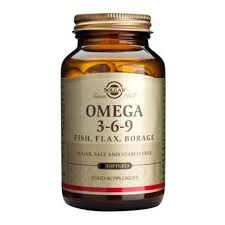 Solgar Omega 3-6-9 Softgels - Pack of 120
Solgar Omega 3-6-9 Softgel is a premium blend of Omega's 3, 6 and 9 from fish, flaxseed and borage oils providing a comprehensive fatty acid profile.  
Essential fats such as those found in fish, flax and borage oil are required for many physiological functions in our body. Recent research has highlighted the importance of fatty acid balance, the ratio between omega 6 and omega 3 fatty acids. Solgar® Omega 3-6-9 provides a higher ratio of omega-3 oils, both from fish and flax, which are complimented by the high quality omega-6s from borage and flax oils, as well as omega-9s in the form of oleic acid, also from flax oil.
Ingredients:
Softgel Capsule Shell: gelatin (from bovine), vegetable glycerin (from palm kernel oil)
Fish Oil (from anchovy, mackerel and sardines) 1300mg, Flaxseed Oil 1300mg, Borage Oil 1300mg, Providing:Omega-3 Fatty Acids, Alpha-Linolenic Acid 648mg, Eicosapentaenoic Acid (EPA)+ 429mg, Docosahexaenoic Acid (DHA)+ 285mg, Omega-6 Fatty Acids, Linoleic Acid 598mg, Gamma-Linolenic Acid 258mg, Omega-9 Fatty Acids, Oleic Acid 312mg.
---
More from this collection