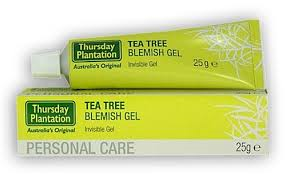 Thursday Plantation Tea Tree Blemish Gel 25ml
Concentrated treatment for acne prone, problem skin.
Penetrates into the skin to dry out acne, spots, blackheads and pimples.
Concentrated formula to dry out spots and pimples.
Contains 100% pure Australian Tea Tree Oil.
Tea Tree Oil has demonstrated to be as effective as Benzoyl peroxide, in the treatment of acne and no side effects.
Free from Benzoyl peroxide.
Clear gel for an invisible treatment.
Free from synthetic Parabens, mineral oils, propylene glycol, SLS, synthetic fragrances, synthetic colours, synthetic preservatives and animal derived ingredients.
---
More from this collection