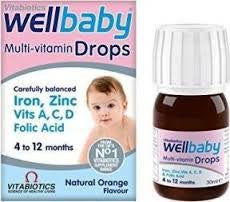 Vitabiotics Wellbaby Multi-Vitamin Drops - 30 ml
Product Description
Vitabiotics Wellbaby Multi-Vitamin Drops - 30 ml.
Ingredients
1ml contains: Vitamin A 350 g RE, Vitamin D (as D3 280 IU) 7 g, Vitamin E 2 mg α-TE, Vitamin C 12 mg, Thiamin (Vitamin B1) 0.2 mg, Riboflavin (Vitamin B2) 0.25 mg, Vitamin B6 0.25 mg, Vitamin B12 0.4 g, Folacin (Folic Acid) 50 g, Pantothenic Acid 0.9 mg, Niacin (Vitamin B3) 3 mg NE, Biotin 8 g, Iron 2.2 mg, Zinc 1.5 mg, L-Lysine 10 mg, Malt Extract 150 mg.
Directions
Babies (from 4-12 months): 0.5ml as marked on the syringe, taken twice daily. Do not give more than the recommended amount.
Box Contains
30ml Multivitamin Drops
---
More from this collection